The remaining pics from a very succesful AK47 chest rig group buy with AKfiles members. During the buy there were 9 colors choosen for the AK47 chest rig.
50 rigs were sold over a few day period. The most popular rig by far was the Multicam. The following colors in order of popularity. Multicam, A-TACS AU, A-TACS FG, Coyote, Woodland, Khaki, Black, OD and GNC.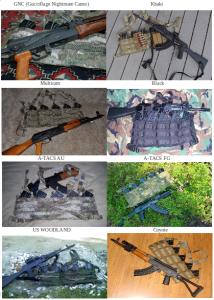 Our AK47 chest rigs are available in two lat strap configurations. The standard and pull-forward. Most chest rigs are designed with the standard design. Which requiers the user to remove the rig and go through a lengthy adjustment process. The pull-forward allows the user to adjust the rig on the go. Making it easy to adjust to dynamic tactical environments and dramatic weather extremes. The pull-forward design was the winner and the only rig on the market with this option.
 AK47 chest rig users usually prefer a H-harness or X-harness. So, we offer both harness styles.  We have the standard H-harness for the H-harness fans. We have added to our X-harness what we call the X-stabilizer to help improve the X-harness design.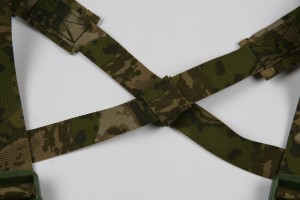 The X-stabilizer prevents the X-harness straps from twisting making it easier to dawn and remove. It equalizes and stabilizes the X-straps automatically on the back. Helps prevent X strap creep up on the neck.
The group buy was for the 5 mag version but the AK47 chest rig is available in a 3, 4, 5 , 6 and 7 mag versions.