The Beez Combat Systems BETQ pouch secures the CAT (Combat Application Tourniquet) up to Gen7 style tourniquet, one ratcheting style tourniquet or the RATS style tourniquets' comfortably into place. The BETQ pouch by Beez Combat Systems can also secure any style pen item into place as well. This is especially useful having a writing utensil within hands reach to properly date the time of the application of the tourniquet.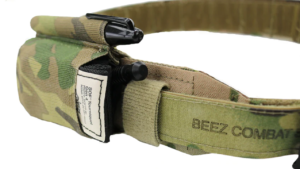 The BETQ pouch can fit any duty, combat or tactical belt 1.5″ to 2″ in height. This also includes the Beez Combat Systems BEEZ I/O BELT™. Inside of the elastic retention band loop Velcro is attached in order to better secure the BETQ pouch into place. On the exterior panel of the retention band the hook Velcro patch can be found which increases security if utilizing the BEEZ I/O BELT™ inner and outer belts.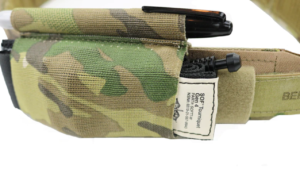 The Beez Combat Systems BETQ pouch is ideal for operations that do not involve the necessity of a full IFAK or medical kit. The BETQ pouch is absolutely ideal for everyday carry (EDC) and can be an essential tool in real world scenarios such as active shooter situations.
The design of the BETQ pouch is ambidextrous not limiting left or right handed individuals. The BETQ pouch can be mounted on either the left or right side of the operator's preferred belt system.
The BETQ pouch is available in a wide variety of camouflage patterns. This includes Multicam®, wolf grey and of course black. This makes the BETQ pouch ideal for low profile zero visibility operations such as grey man security. The BETQ pouch by Beez Combat Systems is 100% laser cut and is manufactured entirely in the United States.