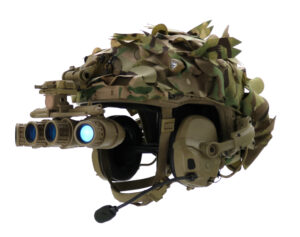 The Predator Ghillie Helmet Cover Scrim Is the evolution in concealment for the end user achieving perfect fit and function. Disappointed with the lack of purpose-built concealment for some of the harshest outlines of the end user we sought out to develop the Predator Ghillie Project. We designed this to fit any size high cut/Fast/Mid and High Cut, ACH/IHPS/LWH helmets, secured with the use of shock cord allowing any user to get a proper fit regardless of size, make and attachments. Ear-Pro, Comms, Strobes, Even NVG mounts will work with the Predator Ghillie Helmet Cover. We wanted to make the solution to an age-old problem that scrim could never fix.
To assemble this product merely route the included bungee through the dual laser cut slits around the perimeter and tighten to your preference. Included in this product we included 8 Predator Dreads, Allowing the end user to add even more break up to their Helmet cover to allow for critical concealment in non-permissive environments. Tie them to the cover, push them through the strategically placed laser cut slits, burn them with a bic onto it, wrap them around your boom mic, tie them to your NVG mount, we made this cover to work for anyone in need of concealment, anywhere.
The Predator Ghillie Helmet Cover Scrim Simply and effectively grants the end user the most advanced concealment solution for both seasonal and terrain changes. Easy and fast to deploy, Small enough when compressed to fit into a pocket or small pouch. Being available in most patterns, there will never be a reason to stand out when blending in matters most.
MultiCam™ fabrics are treated for near IR (infrared) signature issues. Nearly all MultiCam® printed fabrics are tuned for both visible and near IR spectrums. We can not confirm all color options we offer will reduce IR signature.
General Features
Advanced Ghillie cut patterns

Lightweight

Shock cord attachment system

8 Predator dreads

One piece construction

Assembly required
Materials / Construction
Advanced laser cut materials

No stitching to fray or fall apart

1 35″ piece of shock cord to secure the cover to the helmet

Made in the USA
We continue to add to the HELMET FITMENT LIST. If you have a helmet that is not on the list and have confirmed fit. Please send us the Manufacture, Model and Size.
HELMET FITMENT – Mid, High and Super High cut
Team Wendy
-Team Wendy Exfil ballistic size 1-2
-Team Wendy Carbon Size 1-2
-Team Wendy Bump Size 1-2
-Team Wendy Exfil Ballistic SL 1-2
-Team Wendy EXFIL® LTP
Ops Core
-Fast SF Super High Cut sf S-XL
-Fast XP High Cut S-XL
-Fast MT Super High Cut S-XL
-Fast RF1 High Cut S-XL
-Fast Bump High Cut S-XL
-Fast SF Carbon Composite S-XL
-Fast Carbon High Cut S-XL
Gentex
-Special Operations headset S-XL
Hard Head Veterans
-Ballistic Helmet ATE HHV S-XL
-Tactical Helmet ATE Bump S-XL
Armor source
-AS 501 Gen II S-XL
-LJD-AIRE S-XL
-AS-770 GEN II S-XL
Avon
-N49 ULW S-XL
MTEK
-FLUX Ballistic S-XL
-FLUX Carbon-S S-XL
-FLUX Carbon-V S-XL
UARM
-HCBH High Cut
-BHBH High cut
Crye
-Airframe S-XL
-Airframe ATX S-XL
Issued/Surplus Helmets (Various manufacturers to same specs)
-CVC helmets S-XL
-SOHAH Helmets S-XL
Galvion
-Caiman Ballistic S-XL
-Caiman Hybrid S-XL
-Caiman Bump S-XL
-Viper A3 Mission Ready High Cut S-XL
HELMET FITMENT – ACH, IHPS and LWH
Ceradyne 
-IHPS S-XL
Ops Core 
-Sentry XP Mid Cut S-XL
Gentex 
-TBH IIa Helmet S-XL
-TBH IIIa Helmet S-XL
-TBH IIIa mission configurable Helmet System S-XL
-ECH S-XL
United shield 
-ACH Ballistic Helmet S-XL
-SC650 PST S-XL
Hard head veterans
-Mich/ECH HHV BTE Ballistic Helmet S-XL
-Mich/ECH HHV BTE Plus Ballistic Helmet S-XL
Armor source
-AS 500 S-XL
-AS 501 S-XL
-AS 600EX S-XL
-AS 600 S-XL
-LJD Sniper S-XL
-AIRE Carbon S-XL
-AS 200 S-XL
-AS 223 S-XL
Custom armor group
-301 S-XL
Avon
-L110 Combat II  S-XL
Issued/Surplus Helmets (Various manufacturers to same specs)
-PAGST S-XL
-IHPS S-XL
-LWH S-XL
-ECH S-XL
-ACH S-XL
-MICH S-XL
Galvion
-Viper A3 Mission Ready Full Cut S-XL
-Viper P4 S-XL
-Cobra P2 S-XL
-Viper A5 S-XL
UARM
-LCBH Low cut ballistic Helmet  S-XL