The Beez Combat Systems BEEZ EDC BELT is designed to be utilized as an everyday carry (EDC) belt. The BEEZ EDC BELT is 1.75″ in height and achieves perfect fit and function for the end user who prefers a lightweight low profile design with the ability and durability for load bearing of a firearm and magazine holster. The BEEZ EDC BELT is designed with state of the art laser cut laminates combined with American made webbing.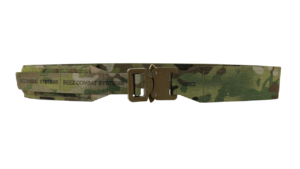 Not only is the Beez Combat Systems BEEZ EDC BELT lightweight and low profile but it is equipped with a Velcro hook and loop adjustment system and a Austin Alpine Cobra Buckle. This allows the end user the most comfort and security when utilizing the BEEZ EDC BELT.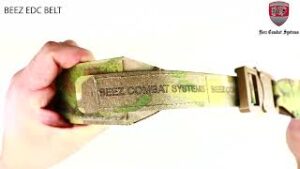 The BEEZ EDC BELT comes in a variety of sizes starting at small with waist sizes 31″ to 36″, medium with waist sizes 35″ to 40″, large with waist sizes 39″ to 44″ and extra large with waist sizes 43″ to 48″. It is recommended for end users who are on the end of the dimension scale to choose the next size up option as adjustments can be made easier.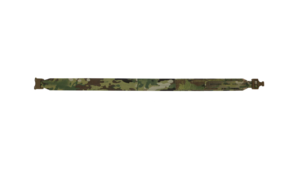 The Beez Combat Systems BEEZ EDC BELT is available in a variety of camouflage patterns, includes MIL-Spec thread and Velcro, is 100% laser cut and is manufactured in the United States.
***Warning***
The Beez Combat Systems BEEZ EDC BELT is not designed to be used with any type of harness, SPIES extraction harness or to be used in a rappelling function. The misuse of these belts could result in serious injury or even death. Beez Combat Systems Inc. is not responsible nor is liability connected to the misuse of this product or loss, damage or expenses arising from improper use of this product.