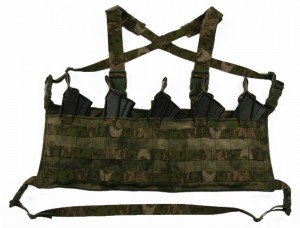 We are now using A-TACS AU/FG webbing on all of our A-TACS gear.  Here are a few pics of our AK47 chest rig in A-TACS FG.
X-harness fans, you are going to like our new idea. Take a look at the X-harness!. It has our new X-stabilizer system.
What does the X-stabilizer do?
– Maintains the X shoulder strap shape for easy dawning.
– Helps prevent X straps from getting twisted.
– Equalizes and stabilizes the X straps automatically on the back.
– Helps prevent X strap creep up the neck.
Another example of KISS (Keep it simple stupid)idea.