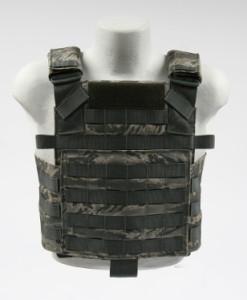 The ABU plate carrier cumber was designed for the U.S. Air Force Security Forces. The plate carrier allows the Security Force Specialist to adapt to any situation while performing their job to protect the people and property of the U.S Air Force.
The ABU plate carrier cumber has plenty of molle real estate. Fully adjustable shoulders insure a perfect fit for any size Airmen. The front and rear carrier include a hydration/comms routing webbing. The shoulder pads provide additional comfort and include routing webbing. If needed, the shoulder pads can be removed for lower profile operation.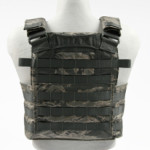 The rear of the carrier has a reinforced drag handle. The cummerbund is fully adjustable with elastic bungee.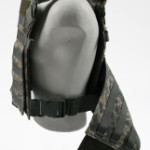 The ABU plate carrier cumber can be ran with or without the cummerbund. Once the cummerbund is removed the two 2″ side release buckles secure the PC in place. This feature allows the Security Force Specialist to change load outs and adjust to environmental conditions with one plate carrier.
The plate carrier cumber is available in all of the SAPI/ESAPI sizes:
Small – (8¾ x 11¾ in)
Medium – (9½ x 12½ in)
Large –  (10⅛ x 13¼ in)
Extra Large – (11 x 14 in)
When ordering make sure to verify the size of plates to guarantee the correct size of plate carrier. We do recommend 8″ shoulder pads with this PC for all sizes.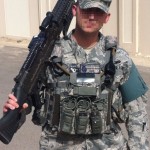 The ABU PC has been field tested by Air Force Security forces and currently being used by Airmen around the globe.