We designed the Bellator Plate Carrier to support Infidel Body Armor's AR500 Steel plates. Check out Infidel for AR500 Body Armor.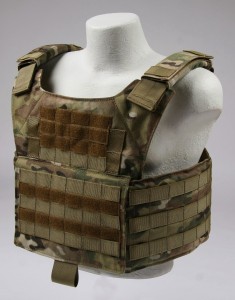 Made in the USA Plate carrier:
Fits M-XL
Water Resistant
MOLLE webbing on inside of cummerbund for attaching side plates (

side utility pouch

required)
Berry Compliant (made from start to finish with American-made materials)
92 weight thread
Mil-spec 1000D Cordura
Closed cell foam pads (no odor)
Duragrip hook & loop
Shoulder pads have loops for equipment and/or hydration tube
Includes plate carrier pad (not shown)
Made in USA
Choose Level IIIa, Level III, or Level IV
Level IIIa Stops: .44 Magnum, 9mm FMJ, 7.62×25, 5.7×28, .50AE and other specialty pistol rounds and provide up to 40% blunt trauma reduction.  Knife resistant to both stabs and slices. Besides being light (under 1 lbs), these inserts are soft and comfortable and just over 1/4″ thick. They are made of Kevlar KM2 and Goldflex II for really good stopping power for fragments and point blank shots and are thinner and lighter than standard Kevlar.
Level III Stops:  5.56 (M855, M193); 7.62×39 (Ball), 7.62x54R (LPS), 7.62×51 (Ball); 30-06 (JHP, FMJ); .357 mag; .45 cal; 50 cal Beowulf; 9mm; 12 Gauge Shotgun slugs, and more.  All of these rounds were fired from semi-auto AR-15s, AK-47s, MAK-90s, bolt action Rifles, Glocks, Revolvers, and pump shotguns.  This is a level III+ plate as tested by HP White, a certified NIJ Laboratory.Complies with MIL-46100 Rev E. for class 1 armor and passed the test against a 30 Caliber Armor Piercing bullet at 2426 fps as tested at the US Army Aberdeen Test Center.  Weight for 10×12 single curve with 1/4″ polyurea anti-frag coating is 9lbs.
Level IV Stops: Everything Level III stops PLUS Armor Piercing, including: 5.56 (M193, M855, SS109); 7.62×39 (Ball,Steel Core/Armor Piercing Incendary (API)), 7.62×51 (Ball), 7.62x54R (L/LPS/B-32 (API)), 7.62 x 63 (JSP/AP M2) plus all pistol rounds and lesser rifle rounds.  All fired from M-1, SVD Dragunov, FN FAL, AK-47, AR-15. Weight for 10×12 single curve is 7.72lbs.
This plate is multi-hit rated up to 20 hits against an AR-15 M855.  This plate is NIJ Certified and we are listed on the NIJ Compliant Armor list. http://www.nij.gov/topics/technology/body-armor/Pages/compliant-ballistic-armor.aspx
Side plates are available in Level III & IV.  Price for side plates includes the required side plate utility pouches.
*The Bellator does not accept: BALCS or Multi-Curve or SAPI/ESAPI armor.