Retro Cummerbund Kit GRID
During this previous year's 2019 Jamboree hosted by FOXTROT in Easton, Washington Beez Combat Systems demonstrated a variety of tactical gear to active duty military, law enforcement personnel, security contractors and of course responsible citizens.  The Beez Combat Systems
Retro-Kit Cummerbund GRID
included a full cummerbund with side plate pockets that accept plate sizes 6×6, 6×8, and 7×8 as well as pockets for rigid inserts exclusive to Beez Combat Systems. The tubes demonstrated the benefits and features for quick release situations for trauma scenarios, comfort and ease of access.  The laser cut (GRID) design was especially appreciated for the additional real-estate available as well as confidence in security once load-bearing gear was attached.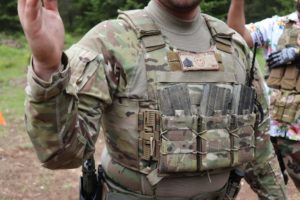 As seen in the photos range of motion to the quick release tubes were easily accessible even when additional load-out gear was attached such as the Beez Combat Systems
Baofeng Radio Pouch GRIDLOK
.  Another benefit greatly appreciated by the demonstration was no matter the position the operator was in whether standing, prone or crouched there was no interference or obstruction to the quick release pull strings located on the tubes themselves.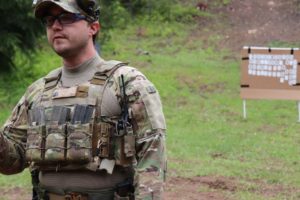 Baofeng Radio Pouch GRID
The Beez Combat Systems
Baofeng Radio Pouch GRIDLOK
was highly received at the 2019 FOXTROT Jamboree specifically because of its ability to secure one of the most popular style HAM Radios on the civilian market. In the first photo it is demonstrated that while switching from primary to secondary weaponry the position of the Beez Combat Systems Baofeng Radio Pouch GRIDLOK never obstructs the operators range of motion or movement. For many right hand shooters it is natural to place their communications devices to the opposite side.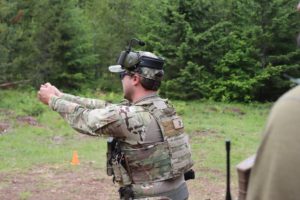 Even with the antennae attached the Beez Combat Systems Baofeng Radio Pouch GRID sits comfortably whether placed on the front panel of a plate carrier or the cummerbund itself. While placed on the cummerbund the Baofeng Radio Pouch GRID still allows the operator access to the quick release tubes on the Beez Combat Systemes Retro-Kit cummerbund GRID.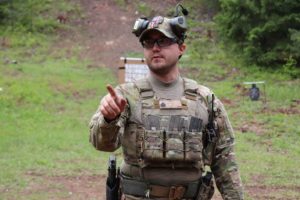 Beez Combat Systems plate carriers are some of the most low profile plate carriers available on the market that are manufactured in the United States and maintain an affordable price for all branches of the military not excluding the civilian market. Many Beez Combat Systems plate carriers and chest rigs were utilized during this event. This brings additional confidence that during such training events
Beez Combat Systems plate carriers
and chest rigs are accepted among a variety of quiet professionals as a trusted tactical product.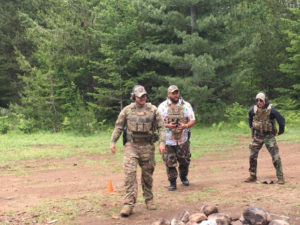 It is with great pride that Beez Combat Systems was able to bring products to the market that are not only trusted with confidence but relied upon for such important training events.