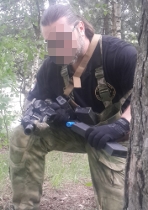 Finally a Russian Vepr 12 being handled by a Russian with American accessories and gear.
The "Vepr-12 Molot" shotgun is made on the basis of the Kalashnikov light machine-gun (RPK), produced for the shells of 12/76 gauge.  The Vepr is 50% more reinforced than a standard, stamped AK rifle.
Here is his review of the weapon system and the Verp 12 chest rig:
Characteristics:
«VEPR – 12 MOLOT» VPO – 205 – 03
Caliber: 12х76
Length of the barrel: 305 mm (millimeters).
Length with folded butt: 600 mm.
Total length with spread out the entire length of the butt (Magpul): 800 mm.
Description:
I replaced the original butt on Magpul butt, set on a corner handle Magpul on Weaver under the front sight and put an ergonomic pistol grip.
I attached holder for two rounds on the fore-end, I usually put there two bullet cartridge, You can quickly throw the patron from the bottom through a mine in the trunk by the left hand, when there is a slide catch.
Short barrel shotgun makes it easier, comfortable and maneuverings in tight spaces (limited space).
While at a distance of 50 meters I get into a can of Coca-Cola 0.33 by bullet cartridge without the use of a collimator or optical sight. Greater precision to me is not required, I usually shoot at shorter distances ranging from 2 to 15 meters.
Review:
I have magazines for 10 round each, and this chest rig, which is light and weightless, allows me to place mags on my body by the best way, without disturbing the balance of the body when moving, does not hinder or slow down the movement and allows you to pull out quickly the mag.
You can fasten the holster for the pistol Glock 17 in front, that is very comfortable during driving a car.
And of course I was very pleased with the material A-TACS  😉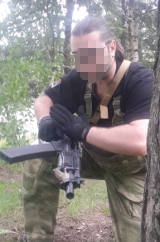 The Vepr-12 chest rig is available in our standard color options:Multicam, A-TACS AU, A-TACS FG, Kryptek Highlander, Kryptek Mandrake, Kryptek Typhon, Coyote, Khaki, Ranger Green, Woodland, ABU, ACU, and Black.