Our friends at Solider Systems have finished the evaluation of the Shotgun Scabbard. They provided us with a few pics of an officer wearing the scabbard and drawing a shotgun from the scabbard.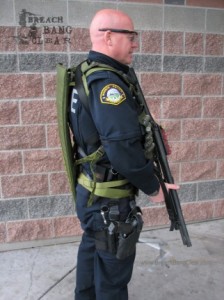 They made some great improvement recommendations for the Shotgun Scabbard that we had already started to implement. We are now placing a piece of velcro between the pry bar tool pocket and the top of the shotgun scabbard for placement of ID.
This shotgun scabbard can be modified. We have added molle for attachment of pouches, cut it down to fit shotguns as short as 10″ barrel and added padded shoulders. The latest and greatest ideas we are working on is an attachment for bolt cutters  to the back of the scabbard.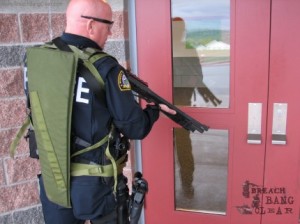 Just image a breacher with a ram, shotgun gun, pry tool and bolt cutters. Basically there is nothing he can't get through.