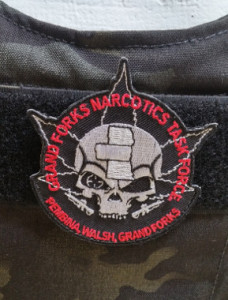 The Grand Forks Narcotics Task Force reached out to us when they were in need of a new custom armor and load bearing system. They needed a low vis armor carrier that could carry front and rear 3A soft armor panels as well as front and rear rifle plates. We went to working customizing our standard BALCS LVBC body armor carrier to fit their needs.
The additional requirement was a load bearing system that can be worn stand alone or clipped into the armor carrier. Our TLMP (Tactical Load Mount Platform) can perform this function with the correct H-harness and field replaceable buckles.

The TLMP can be mounted to the vertical webbing on the carrier with QASM buckles or G-hooks. This allows for a very low profile carrier until a need arises to go full tactical.
The custom BALCS LVBC carrier is utilizing our 3 cell elastic cummerbund just like the one on our standard BALCS LVBC body armor carrier. This allows up to six mags. Three mags per side if needed. The cells can be used to hold a radio, first aid kit, handcuffs…etc.
If you, your department or agency is in need of custom body armor carrier  we are here to help. If you need to keep up with ever changing camouflage trends we can do that as well.
Our custom body armor carriers are available in the following colors:
MultiCam, MultiCam Black, A-TACS AU, A-TACS FG, Kryptek Highlander, Kryptek Mandrake, Kryptek Typhon, Coyote, Khaki, Ranger Green, OD, Wolf Grey, Woodland and Black.