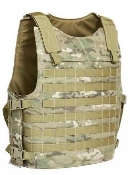 BCS BALCS carriers support ballistic soft armor cut to the shape requirements specified for US SOCOM SPEAR BALCS and Hard Armor plates cut to SAPI and Swimmer.
The BALCS carriers are available in three versions and in multiple colors which allows the individual to quickly utilize BALCS cut armor in a cost effective manner. Features include fully adjustable shoulders, 2 inch strip of velcro loop on the front for identifiers and groin protector attachment points. Colors – Multicam, A-TACS, Coyote, Ranger Green, Khaki, OD and Black.
To see the other versions of the BALCS carriers click on the BALCS carriers product link on the right side.