The ARMIS Minimalist plate carrier by Beez Combat Systems is a low profile zero visibility plate carrier designed specifically for the Steel Ops ARMIS plates. The Steel Ops ARMIS plates were designed by Chris Costa of Costa Ludus. The low profile design of the ARMIS minimalist by Beez Combat Systems allows the wearer the ability to operate the ARMIS minimalist plate carrier beneath a shirt or jacket creating a low profile almost zero visibility print. As well as the ARMIS Minimalist can be upscaled utilizing both QASM or G-Hooks to increase real estate and modularity if a larger loadout is preferred.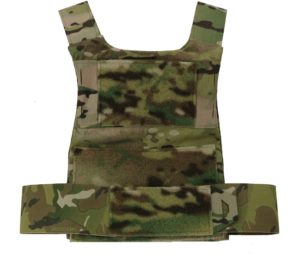 The Steel Ops COSTA LUDUS ARMIS hard armor urban cut plates come sized at 9″ x 11.75″ x 7/16″ (+/- 1/16″). The urban cut in a hard armor plate makes this plate unique to most other plates on the market. The Steel Ops COSTA LUDUS ARMIS plates feature a Tri-Curve fit which improves how the plate sits against the chest and torso as well as evenly distributes weight across the torso to help reduce excess weight commonly felt around the neck and shoulders while operating in a plate carrier.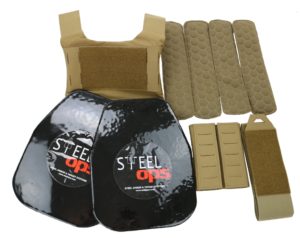 The front of the ARMIS Minimalist by Beez Combat Systems features a 4″ x 9″ Velcro ID Field as well as laser cut attachment points for both QASM buckles and G-Hooks. The shoulder straps are laser cut and are completely concealable within the back plate pocket. This allows the wearer a zero visibility profile as the excess material is tucked away as opposed to bunching up after adjustment. The ARMIS Minimalist comes equipped with a 3″ elastic cummerbund however, the ARMIS Minimalist can be upgraded to other cummerbund style and configurations secured up to 5″.
A variety of APTUM™ plate carrier accessories are compatible with the ARMIS Minimalist including the PC Pads and the Shoulder Pads. The APTUM™ PC Pads allow the wearer additional comfort and airflow when operating the ARMIS Minimalist as well as the APTUM™ Shoulder Pads help ease stress commonly felt around the shoulders and neck when operating with additional weight over a long period of time.