One of our users that is a big fan of the AK47 chest rig sent us a pic of his load out on the rig. He had the opportunity running the rig over a weekend tactical training event.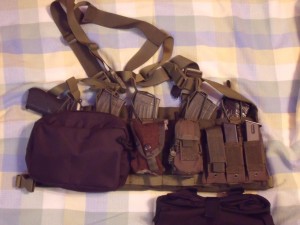 Here's contents/purpose left to right:
Black GP Pouch: Would prefer something an inch less in depth but this works. Carries batteries, weapon parts and tools, spare 5 round magazine, Power Bars, etc.
Woodland grenade pouch is holding compression bandages and gloves.
OD Green Pouch has a Tri Square TSX300 eXRS radio.
OD Green triple mag pouch left to right has a flashlight and 2 pistol mags.